The Ultimate Weight Loss Smoothies Guide + 5 Healthy Smoothie Recipes
Smoothies are an easy and convenient way to get a hefty dose of nutrition into your day. But not all smoothies are created equal… so, we're sharing our secret formula for how to make healthy weight loss smoothies plus 5 recipes for the best smoothies for weight loss.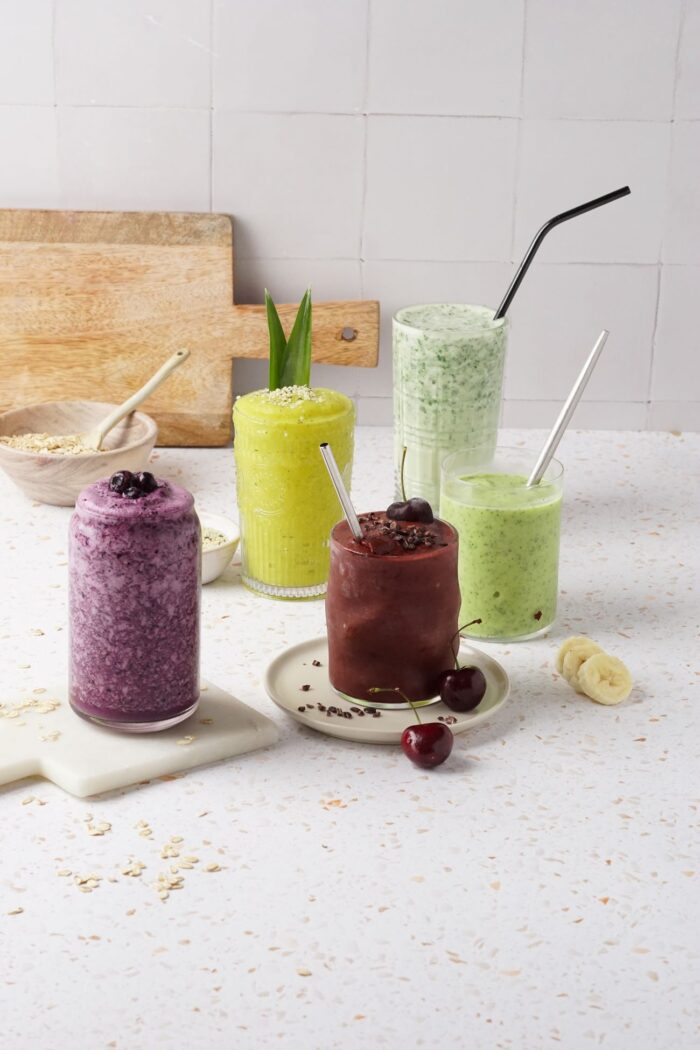 Can you lose weight drinking smoothies?
Absolutely! Smoothies are one of the easiest and most convenient ways to get a hefty daily dose of weight-loss-supporting nutrients, like fiber, protein, vitamins, minerals, and phytonutrients. Plus, they're (typically) a healthier, more nutrient-dense alternative to the standard American breakfast—you know, Pop-Tarts, donuts, and bacon, egg, and cheese, breakfast sandwiches.
But before you sprint to your local smoothie bar, we must warn you that not all smoothies are created equal. For example, smoothies at your local smoothie bar can be packed with sugar from added sweeteners, fruit juices, and even an excessive amount of fruit, but they often lack protein.
Too much sugar, no matter the source, and not enough protein and fiber is a recipe for a blood sugar disaster. But with the right formula, it's easy to make balanced, weight loss smoothies right in the comfort of your very own kitchen.
P.S. Smoothies are great for those not looking to lose weight, too!
How to make healthy smoothies for weight loss
Drumroll, please! Here's the "secret" formula for building the best smoothies for weight loss:
Choose your base liquid*—start with 6 to 8 ounces: unsweetened milk and/or water. For dairy-free smoothies, choose unsweetened nut (almond, cashew, etc.), pea, soy, or coconut milk (the refrigerated kind, not the canned kind).
Pick your protein:

½ to 1 serving protein powder (see protein powder recommendations below)
1/3 to ½ cup plain Greek yogurt, kefir, or cottage cheese (you may need to adjust the liquid amount if using one of these)
3 to 4 ounces silken or soft tofu

Get fruity—add ~1 cup of fruit: apple, banana, berries, mango, papaya, peaches, pineapple, pitaya, etc. One small apple or one large banana equals about one cup of fruit.
Veg out—add ~1 serving of veggies (optional, but recommended): one serving = 1 cup fresh leafy greens (fresh spinach or kale leaves) or ½ cup chopped frozen greens and everything else (frozen chopped spinach or kale, frozen riced cauliflower, raw or frozen zucchini slices or chunks).
Don't forget the fiber-rich fats—add 1 to 2 tablespoons: avocado, unsweetened nut or seed butter (almond, cashew, peanut, sunflower seed, tahini, etc.), or small seeds (chia, hemp, ground flaxseed).
Jazz it up with optional extras (to taste): spices (cinnamon, pumpkin pie spice, nutmeg, ginger, turmeric, etc.), fresh herbs (mint, basil, etc.), extracts (mint, vanilla, etc.), unsweetened cocoa powder, adaptogens (ashwagandha, maca, reishi, etc.), matcha, spirulina. Emphasis on optional.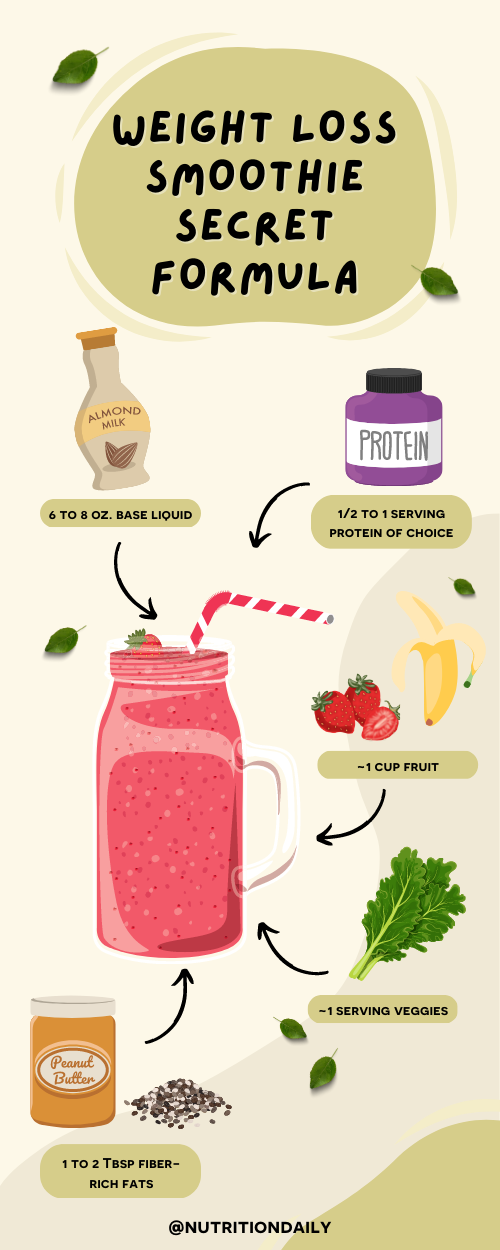 Fresh vs frozen fruit—which should you choose?
Frozen food has gotten a bad rap over the years for being highly processed and unhealthy—a largely undeserved reputation, especially when it comes to frozen produce. Freezing is one of the easiest and most effective food preservation methods.
You can read the full scoop on the fresh versus frozen produce debate here, but here are the cliff notes: Frozen produce is often picked at peak ripeness and frozen within a few hours to lock in the nutrient content; however, it may lose some nutrients during the blanching and freezing processes. Fresh produce is often picked before it's fully ripe, giving it less time to develop a full range of nutrients. It's also more likely to sustain some nutrient loss during transport and storage. All of that said, studies have found that frozen fruits and vegetables are—for the most part—comparable nutritionally to their fresh counterparts.
So, which should you choose for your weight loss smoothies? Both! Although, we may be partial to frozen produce when it comes to making smoothies as many items are de-stemmed and pre-chopped for you, making them more convenient than their fresh counterparts. Plus, frozen fruits help thicken your smoothies without the need for much (if any) ice, and you can find a variety of fruit "blends"—think mixed berries and tropical fruit blends—that make it easy to get more plant diversity into your diet.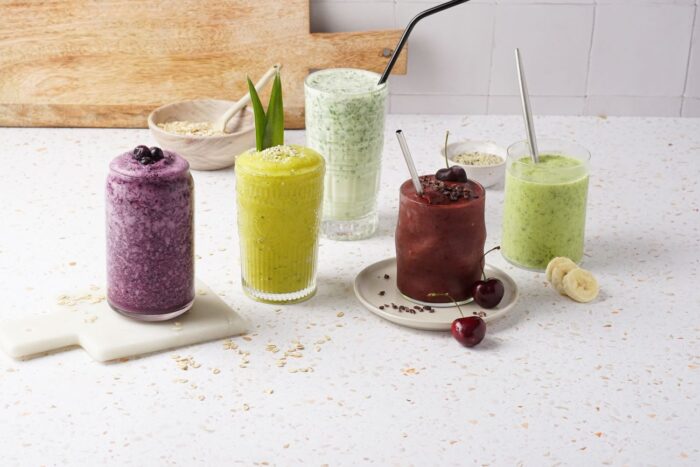 Tips for making the best weight loss smoothies
When choosing a protein powder, choose one with less than 5 grams of added sugar per serving or one sweetened with low-calorie sweeteners like monk fruit or stevia. Our top picks:
Don't want to use protein powder or yogurt? No problem—we've got you covered:

Nuts and seeds are packed with protein, so substitute a couple tablespoons hemp hearts (the most protein-dense of the seeds) and/or some nut/seed butter instead.
Try using unsweetened soy or pea milk (like Ripple) as your liquid base. Both have a protein content comparable to that of cow's milk.
It may seem a little *odd* and frankly unpleasant to add tofu to your smoothies, but don't knock it 'til you try it! In addition to being rich in health-promoting soy protein, tofu adds creaminess to your smoothies and is virtually tasteless in them! Simply add a few ounces of drained silken or soft tofu to your smoothie.

Chocolate protein powder or unsweetened cocoa powder, banana, and pineapple are our go-to ingredients to help mask the taste of leafy greens in smoothies.
Pour your liquid into your blender first, before adding the remaining ingredients. This will help prevent ingredients (like protein powder) from sticking to the bottom and lower sides of your blender.
How to make weight loss smoothies without bananas
Most smoothie recipes you'll find online include bananas—and for good reason. Bananas offer a sweetness and creaminess to smoothies without distinct flavor that other fruits simply can't replicate.
However, there are several reasons why someone might want recipes for weight loss smoothies without bananas, such as an aversion or allergy to them. To make smoothies without bananas, simply substitute other fruits. Frozen mango chunks work well here, as mango offers a similar creaminess.
Fruits that are less sweet, like berries, are often paired with banana in smoothie recipes to enhance the sweetness of the final product. Instead, try pairing them with a pitted medjool date to enhance the sweetness without affecting the flavor profile (e.g., ½ to 1 cup blueberries plus a date instead of banana). You can also try using a lower-sugar vanilla yogurt to enhance both sweetness and creaminess as we've done in the Blueberry Muffin Smoothie recipe below.
It may take some trial and error of mixing and matching non-banana fruits and other ingredients until you make the perfect banana-free smoothie that suits your tastebuds!
How to meal prep smoothies
Measuring out numerous ingredients for your smoothies every single time you want to make a smoothie can feel like a tedious task. To save time (and for your sanity) buy small, reusable, freezer-safe containers or resealable bags and portion out several servings of your smoothie ingredients into your smoothie prep containers at once. Like these silicone cups, these silicone sandwich bags, or these ice cream pint containers.
Add all ingredients—leafy greens, nut butters, protein powders, and all—except for your liquid of choice or kefir, if using, as they'll be added directly to your blender when it comes time to make a smoothie. If using Greek yogurt or cottage cheese, you can also hold off on portioning them out into the smoothie prep containers and add them directly to your blender, or you can freeze them into cubes in a silicone ice cube tray.
To make the cubes, simply spoon ~1.5 tablespoons Greek yogurt or cottage cheese into the slots of a silicone ice cube tray, like this one, and freeze until hard. Pop a few cubes into each smoothie prep container.
When you're ready to whip up a smoothie, simply pour your liquid of choice into your blender, dump in the contents of one of your smoothie prep containers, and blend, and you've got yourself a smoothie in 30 seconds.
Can you add fresh, raw leafy greens, like spinach and kale, to the smoothie prep containers without blanching them first? Yes! However, they won't last as long in the freezer as blanched greens. If you plan on using your meal-prepped smoothies within the next week or two, you'll be just fine.
5 healthy weight loss smoothie recipes:
Chocolate Cherry Smoothie: Cherries are low in calories and chock full of fill-you-up fiber and disease-fighting phytonutrients. This chocolate cherry flavor combo is hard to beat.
Blueberry Muffin Smoothie (no banana!): This smoothie features small but mighty wild blueberries, which are particularly rich in anti-inflammatory and brain-healthy anthocyanins, offering 33% more than their cultivated counterparts thanks to their higher skin-to-pulp ratio. For those who want or need to avoid banana in their smoothies, this smoothie is banana free! However, feel free to add banana if you'd like.
Tropical Smoothie: For this refreshing smoothie, tropical fruits are blended with avocado and zucchini, which may seem like an odd choice but trust us—it's virtually tasteless!
Happy Gut Smoothie: This smoothie contains gut-friendly ingredients like probiotic-rich Greek yogurt and pineapple, which contains a natural digestive enzyme called bromelain.
Banana Kale Smoothie: The star of this green smoothie is the nutrient-packed kale—a cruciferous leafy green that's rich in health-promoting nutrients like vitamin C, carotenoids, and glucosinolates. Don't worry—the other ingredients in this smoothie mask its bitter taste.
Feel free to swap things out! Don't have almond butter? Use whatever nut butter you have on hand. Rather use fresh over frozen produce? No problem! You'll just have to add some ice.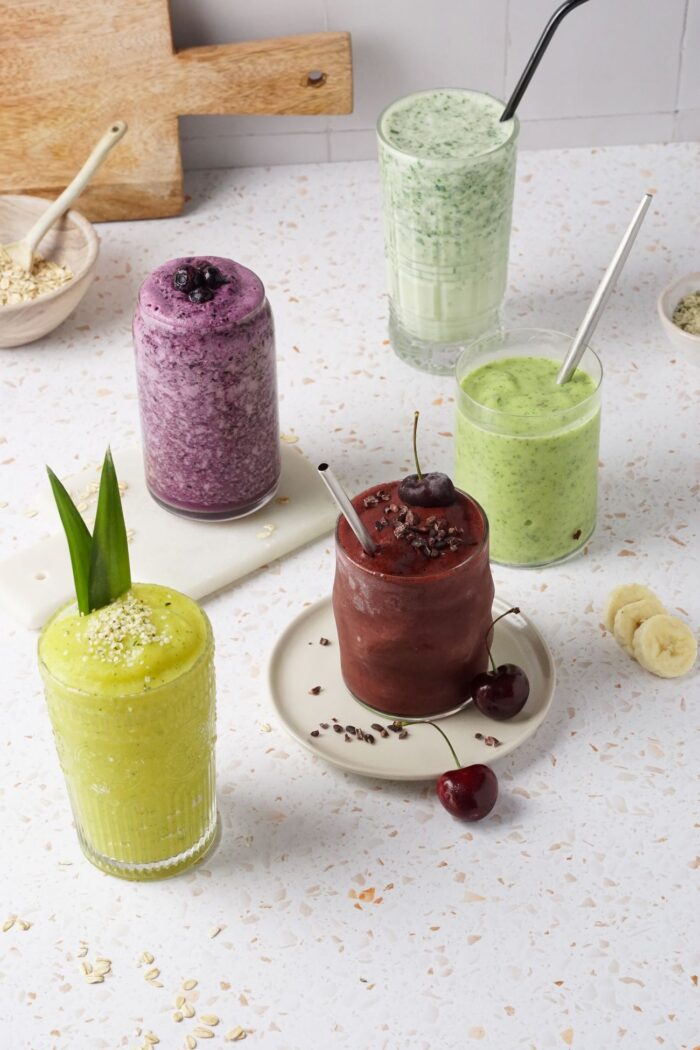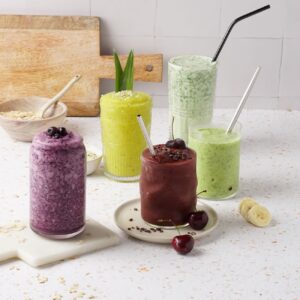 5 Smoothies for Weight Loss
Yield: 1
Smoothies are an easy and convenient way to get a hefty dose of nutrition into your day. But not all smoothies are created equal… so, here are 5 of our favorite weight loss smoothies!
Ingredients
Start with…
6 to 8 ounces liquid of choice, like almond, pea, soy, or cow's milk, or water
CHOCOLATE CHERRY SMOOTHIE
Heaping ½ cup frozen cherries
½ banana, sliced and frozen
Scant ½ cup frozen cauliflower rice*
1 scoop chocolate plant-based protein powder
1 tablespoon unsweetened almond butter
1 tablespoon unsweetened cocoa powder
HAPPY GUT SMOOTHIE
½ cup frozen pineapple chunks
½ banana, sliced and frozen
1 cup fresh baby spinach
½ cup plain or low-added-sugar vanilla Greek yogurt
1 tablespoon almond butter
½ tablespoon chia seeds
BANANA KALE SMOOTHIE
1 small banana, sliced and frozen
1 small medjool date, pitted
Handful fresh kale
1 scoop vanilla plant-based protein powder
1 tablespoon cashew butter
½ tablespoon ground flaxseed
BLUEBERRY MUFFIN SMOOTHIE
Heaping 1 cup frozen wild blueberries
Scant ½ cup frozen cauliflower rice*
½ cup low-added-sugar vanilla Greek yogurt
¼ cup rolled oats
1 tablespoon peanut butter
½ tablespoon ground flaxseed
Pinch cinnamon, optional
TROPICAL SMOOTHIE
½ cup frozen mango chunks
½ banana, sliced and frozen
½ zucchini, sliced/chopped and frozen
¼ avocado
1 scoop vanilla plant-based protein powder
1 tablespoon hemp seeds
Instructions
Pour the base liquid into the blender, then add the remaining ingredients.

Blend until smooth.

Add milk, water, or ice as needed to thin or thicken the smoothie to your liking!
Notes
*Disclaimer: Most packaged frozen vegetables are not intended to be eaten without cooking them first because they may harbor bacteria (most notably, Listeria) that can cause foodborne illness and that are only killed when cooked. Although the risk of contamination is low and most healthy adults exposed to the bacteria rarely get seriously ill, there are certain populations—pregnant women and their newborns, adults aged 65 or older, and people with weakened immune systems—at greater risk of infection who should undoubtedly avoid consuming packaged frozen vegetables without cooking them first. For more information, please refer to the CDC website.
This post may contain affiliate links, which means I may receive a small commission if you purchase through those links. I only recommend products that I know, trust and love! Thank you for your support!