Caulifredo: The Best Creamy Cauliflower Alfredo Sauce 
Cauliflower stands in for cream and flour in this alfredo-inspired pasta sauce. You might be huffing in disappointment after reading that—and understandably so—but this healthy cauliflower alfredo sauce is a lightened-up favorite among adults and kids alike. If cauliflower can be pizza and rice, it can be just about anything…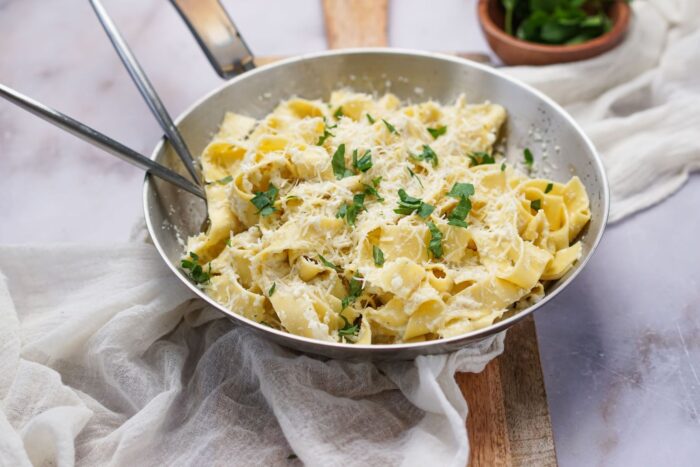 Ready for a lighter version of your favorite creamy pasta? Enter the miracle vegetable: cauliflower. Honestly, is there anything that this power veggie can't do?
Is cauliflower alfredo sauce healthy?
This light and creamy cauliflower alfredo sauce is a lower-calorie and -fat spin on a traditional alfredo recipe. It uses steamed and pureed cauliflower to (somewhat) mimic the creamy texture and bright white color of a traditional alfredo sauce.
There are a lot of cauliflower alfredo sauce recipes out there. So, what makes this one the BEST of them all? Well, to better match the rich, buttery flavor of alfredo sauce, this recipe calls for a small amount of butter and olive oil. Delicious and nutritious: check!
Benefits of cauliflower
While some people may assume that white foods don't offer much nutritional value, in the case of cauliflower, this cruciferous vegetable has many health benefits.
Here are three benefits of eating cauliflower:
One cup of cauliflower (the amount in one serving of this recipe) provides you with about 60% of your daily vitamin C needs. Vitamin C functions as an antioxidant in the body and is involved in many body functions, including stimulating collagen synthesis, enhancing iron absorption, and supporting a healthy immune system. One systematic review found that vitamin C supplementation of at least 200 mg/day reduced common cold symptoms by 8% on average, which translates to about one day.
One cup of cauliflower provides about 10% of your daily choline needs, a nutrient that you might not have heard of before. Choline has many important roles in the body but not many foods provide you with much, especially plants. Observational studies in adults have demonstrated a link between higher choline intakes and better cognitive performance.
Cauliflower is a cruciferous vegetable. One characteristic that sets cruciferous vegetables apart from the rest is their high content of glucosinolates—inactive phytonutrients that are activated into their potent, disease-fighting forms when they come in contact with enzymes stored separately in these veggies via cutting, chopping, and/or chewing of the veggie. Accumulating evidence supports the beneficial effects of dietary glucosinolates as potential anti-cancer agents. In a study that pooled data from two large cohorts, higher consumption of cruciferous vegetables was associated with lower risk of breast cancer, and this association after additional adjustment for fiber consumption.
Those are just a few of the benefits of eating cauliflower. It is a nutrient powerhouse!
Is cauliflower good for weight loss?
Absolutely! Cauliflower is an excellent food to incorporate into your diet for weight management. Cauliflower is high in water and fiber and low in calories, making it a low energy density food. This means it can give you more belly-filling bang for your calorie buck!
Why this recipe works
Traditional alfredo is made with heavy whipping cream and butter. Delicious, but pretty heavy! Instead, we use cauliflower, a neutral-tasting vegetable that whips into a super-smooth sauce.
This cauliflower alfredo sauce is silky and coats your favorite pasta without leaving you feeling overly full or sluggish after your meal. The pureed cauliflower makes a creamy base for this sauce; a bit of butter and olive oil, a sprinkle of parm, and tasty hemp hearts help to round out the flavor and add richness to the dish's sauce.
Here's what you'll need:
Here are the main ingredients needed for your creamy cauliflower alfredo sauce:
Cauliflower: Look for a medium-sized, firm head of cauliflower without browning or bruising. You can also use frozen cauliflower florets instead of the fresh cauliflower for convenience. Curious to know if frozen vegetables are health and how they stack up nutritionally to their fresh counterparts? Check out our latest article: Fresh vs Frozen Vegetables and Fruits: Which Are Better For You?
Non-dairy milk: Although this recipe calls for non-dairy milk, feel free to use regular cow's milk; skim or 2% milk is preferred.
Hemp hearts/seeds: Hemp hearts, also known as hemp seeds might actually be at your regular grocery store. Bob's Red Mill is one brand, for example. You can also find them online – for example on Amazon. Fun fact: of all the seeds, hemp seeds are the most protein-packed, providing a whopping 10 grams of protein per 3-tablespoon serving (plus about 20 percent of your recommended daily amount for iron).
Plus, a few seasonings, some parmesan cheese and your favorite pasta.
How to make this creamy Cauliflower Alfredo Sauce dairy-free
This recipe for cauliflower alfredo sauce calls for far less dairy than a traditional alfredo, but if you need to be 100% dairy-free, you can use olive oil or non-dairy butter for the dairy butter. And instead of the Parmesan cheese, you can try dairy-free parmesan cheese or nutritional yeast.
FAQs
Does caulifredo taste exactly like alfredo?
Unfortunately, no. Nothing can exactly mimic the rich flavor of heavy whipping cream and butter except for, well, whipping cream and butter. But worry not—this cauliflower alfredo sauce is still creamy and delicious!
What can I use instead of hemp hearts?
If you're looking for an alternative to hemp hearts, use an equal amount of raw cashews; they also blend well into a creamy sauce. Just be sure to soak them first. To do so, place your cashews in a small saucepot, cover with water, and bring to a boil. Remove from the heat, cover, and let sit for about 15 minutes; drain the water before adding the soaked cashews to the blender.
What if I am a vegan?
To make this vegan, you'll follow the same instructions mentioned earlier for making a dairy-free cauliflower alfredo sauce. Simply omit the butter and add an additional tablespoon of olive oil, and swap in a few tablespoons of nutritional yeast for the parmesan cheese. That's it!
Caulifredo: Creamy Cauliflower Alfredo Sauce
This easy recipe for a creamy cauliflower alfredo sauce is a great way to sneak more vegetables into your dinner in a delicious way!
Ingredients
8 ounces whole-wheat or legume-based pasta of choice
1 tablespoon extra-virgin olive oil, divided
3 cloves garlic, minced
4 cups fresh cauliflower florets, about 1 medium head
1 tablespoon butter, melted or 1 additional tablespoon olive oil
½ cup unsweetened non-dairy milk
¼ cup hemp hearts
Juice from 1 medium lemon, about 3 tablespoons
¼ cup freshly grated Parmesan cheese, plus more for garnish
½ teaspoon salt, plus more to taste
¼ teaspoon black pepper
Fresh parsley for garnish, optional
Instructions
Cook the pasta according to the package directions. Reserve 1 cup of the pasta cooking water before draining.

Meanwhile, heat 1 teaspoon of olive oil in a large pot over medium heat. Add the garlic and sauté until fragrant, about 30 seconds. Transfer to a high-powered blender.

Using the same pot, bring about 4 cups of water to a boil. Add the cauliflower florets, cover with a lid, and cook until the cauliflower is fork-tender, 8 to 10 minutes.

Drain the cauliflower and place it in the blender. Add the reserved pasta water, the remaining 2 teaspoons of oil, butter, milk, hemp hearts, lemon juice, Parmesan, salt, and pepper; blend until smooth and creamy. Season with salt and pepper to taste.

Transfer the sauce along with the pasta back to the pot, toss, and heat over medium-low until heated through, 1 to 2 minutes.

Garnish with fresh parsley and additional parmesan, if desired.
This post may contain affiliate links, which means I may receive a small commission if you purchase through those links. I only recommend products that I know, trust and love! Thank you for your support!