Secret Ingredient Healthy Tomato Soup Recipe (No Cream!)
This creamy, healthy tomato soup recipe is going to become your lunchtime staple. While not quite as quick as just opening a can of your childhood favorite tomato soup, a little bit of effort pays dividends. This grown-up version of your childhood classic is worth a few more minutes; with a secret ingredient that boots its nutrition quality and satiating power.
What's the secret ingredient? You're not going to believe it: beans!
Is tomato soup good for you?
The main ingredient in tomato soup is tomatoes—a vegetable, no wait, a fruit—so, it must be healthy, right? The botanical classification of tomatoes aside, tomatoes have a lot to offer nutrition-wise.
Health benefits of tomatoes
Whether you call them a fruit or a vegetable, tomatoes are a very healthy food and one of the best sources of lycopene, which has numerous health benefits:
Interestingly, canned tomatoes, which you'll be using in this healthy tomato soup recipe despite their largely undeserved bad reputation, are an even better source of lycopene than their fresh counterparts! That's because the high-heat canning process makes the lycopene more bioavailable. But there's more to tomato soup than just tomatoes…
P.S. Like fruits and vegetables picked for canning, those picked for freezing have received a bad rap. But is it deserved? To catch up on the latest in the fresh versus frozen produce debate, click here.
Tomato soup calories
Tomato soup is often made with fat- and calorie-dense heavy cream and an often unnecessary amount of added sugar, making many store-bought and restaurant tomato soups far less nutritious than they could be.
Take, for example, Panera's Creamy Tomato Soup, which clocks it at around 230 calories and 14 grams fat per cup—and that's without the (delicious) croutons. One container of Campbell's Creamy Tomato Sipping Soup (about a cup and a half serving size) contains less calories and fat, but has 14 grams of added sugar.
That's not to say you can't find healthy, store-bought tomato soups—Campbell's Healthy Request and Well Yes! tomato soups have significantly less added sugar, and brands like Pacific and Progresso offer nutritious versions as well—but by making the tomato soup yourself, you control what goes in it, and what doesn't.
And the not-so-secret ingredient you'll be adding to this healthy tomato soup delivers a texture and richness similar to that of a traditional cream-based tomato soup, but in significantly fewer calories. While beans might not be the first ingredient you think of for a homemade healthy tomato soup recipe, they're a solid choice for several reasons; they're high in protein, rich in fiber and when pureed, make the soup creamy and satisfying without the need for any cream.
When answering the question "is tomato soup healthy?", the answer is: it depends. Store-bought and restaurant tomato soups are typically cream-based and have added sugar, and are therefore not the most nutritious. Your best option is to make it yourself—this way you have control over the nutritional quality.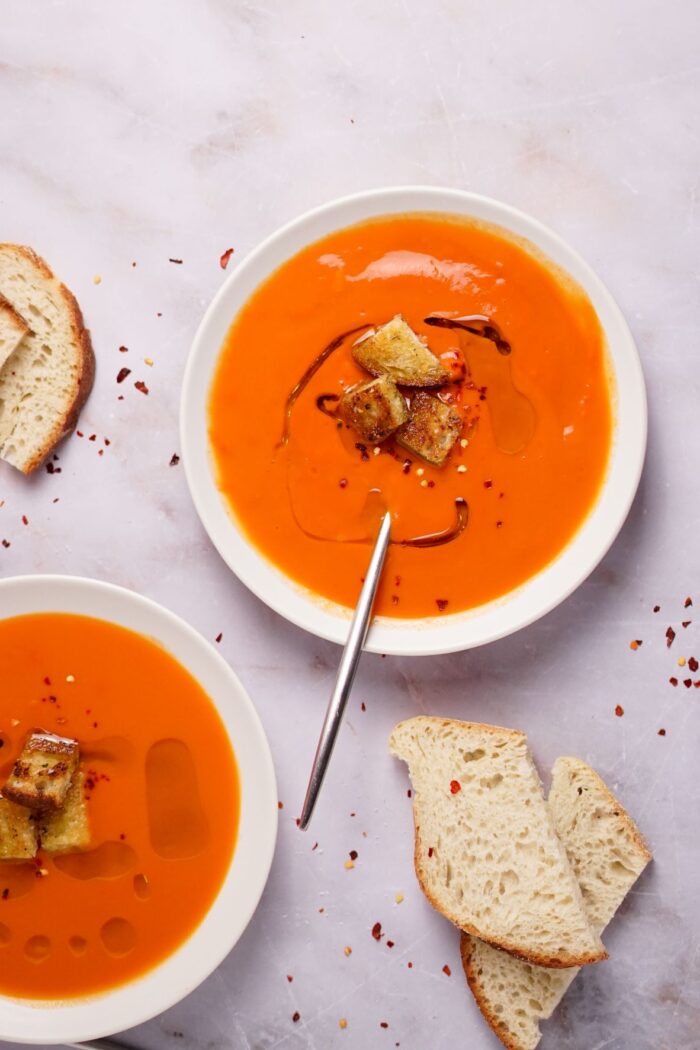 What you'll need:
Here are the main ingredients needed for this healthy tomato soup recipe:
Canned tomatoes: canned tomatoes are great pantry staples to have on hand at all times. For this recipe, try the San Marzano canned tomatoes. What are they? Kind of like true champagne can only come from the Champagne region of France, San Marzano tomatoes are from the San Marzano region of Italy. These tomatoes are a tad more expensive, but the flavor is top notch and they have fewer seeds.
Canned white beans: adding pureed canned beans is a simple way to achieve a creamy texture in this tomato soup with a protein and fiber boost to boot. Even if you think you don't like beans, give this recipe a try; you won't even notice that this nutrient-boosting ingredient is there! Try cannellini or butter beans for this recipe for the smoothest texture.
Flavor boosters: parmesan cheese, fresh basil, crushed red pepper flakes, and garlic all combine for a flavorful soup that tastes like it has been simmering on the stove for hours! Feel free to substitute other fresh and dried herbs as you wish; oregano, parsley and hot sauce would all be delicious for a different version of this soup.
For the full ingredients list, see the recipe card below.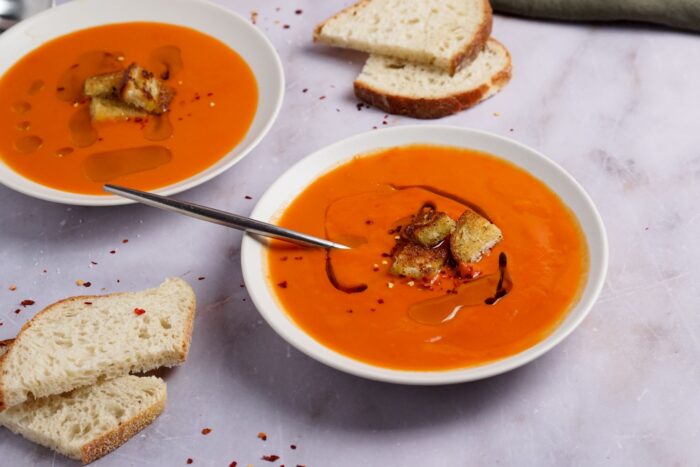 How to make this healthy tomato soup recipe dairy-free or gluten-free?
To make a dairy-free tomato soup, swap out the parmesan cheese for one to two tablespoons of nutritional yeast. And in place of the butter, use dairy-free butter or olive oil instead.
As written, this healthy tomato soup recipe is gluten-free. No changes needed!
FAQs
Is tomato soup good for weight loss?
Broth-based soups are generally better choices than cream-based soups for weight loss. Therefore, many store-bought and restaurant tomato soups, which typically use heavy cream, aren't the best option for weight loss.
If you want a tomato soup that's good for weight loss (and good for you), your best bet is to make it yourself! This healthy tomato soup recipe skips the heavy cream in favor of a blend of nutritious and lower-calorie white beans and vegetable broth.
Can I make this recipe fat-free?
You can, but I wouldn't recommend skipping the butter in this recipe (or non-dairy butter, if you're a vegan). Not only does the butter add considerable flavor, making this soup satisfying, but it also helps with the absorption of lycopene, the phytochemical that makes tomatoes so healthy. Without the fat in this recipe, your body is not able to absorb as much of this powerful phytonutrient.
Is this recipe vegetarian or vegan?
As written, this healthy tomato soup recipe is vegetarian.
To make a vegan tomato soup, use olive oil or non-dairy butter in place of the butter, and vegan parmesan cheese or nutritional yeast in place of the parmesan cheese.
Can I sub the vegetable stock?
Yes! If you are not a vegetarian, you can use chicken stock or beef stock instead of vegetable stock. You can also use water if you don't have stock at home. The flavor will not be quite as rich, but it will still be very tasty.
Secret Ingredient Healthy Tomato Soup Recipe (No Cream!)
Yield: 4
A twist on the classic, this healthy tomato soup recipe is both nutritious and delicious, thanks to a secret ingredient that ups the protein, fiber, and creaminess!
Ingredients
1 tablespoon extra-virgin olive oil
1 large shallot, chopped
1½ tablespoons tomato paste
2 cloves garlic, minced
1/4 teaspoon crushed red pepper
1, 28- ounce can of whole peeled tomatoes, San Marzano preferred, with the juices
1, 15- ounce can of white beans, such as cannellini beans, drained and rinsed
1 cup low-sodium vegetable broth
Salt and black pepper
1/2 cup loosely-packed fresh basil leaves
2 to 3 tablespoons grated Parmesan cheese, sub 1 to 2 tablespoons nutritional yeast if vegan/dairy-free
1 tablespoon butter, sub vegan butter if vegan
2 teaspoons balsamic vinegar
Instructions
Heat the olive oil in a large soup pot over medium heat. Add the shallot and sauté until softened, about 5 minutes. Stir in the tomato paste, garlic, and crushed red pepper, and cook until fragrant, about 1 minute.

Add the canned tomatoes (with the juices), white beans, vegetable broth, and a heaping ½ teaspoon salt; cover, and let simmer over low heat to allow the flavors to meld for about 20 minutes.

Add the basil, parmesan, butter, and balsamic vinegar. Puree the soup with an immersion blender or in batches in a blender or food processor until very smooth. (If using a blender, hold a dish towel over the lid and make sure not to cover tightly to allow air to escape from the top).

Season with additional salt and pepper to taste.
This post may contain affiliate links, which means I may receive a small commission if you purchase through those links. I only recommend products that I know, trust and love! Thank you for your support!